Disabled in an instant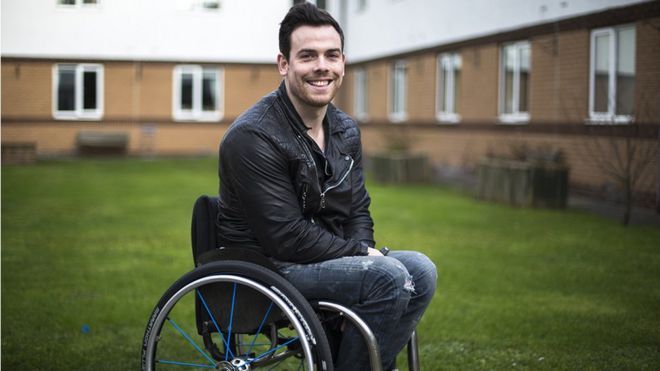 Those who become disabled very suddenly have to confront a care system they know nothing about and which some people feel hinders rather than helps. Peter Mitchell met three disabled people for whom this is the case.
It was always a dream of mine to become a professional footballer. And then, in July 2000, it came true. I signed a contract with Leeds Utd and was just starting my third season with the club when I was in a car crash which broke my back.
At 18, I was living my boyhood fantasy but in a crazy few seconds, my life as I knew it was over.
I returned home to Northern Ireland for rehab, and eight weeks later I found myself back in the family home and in a wheelchair. My world was turned upside down! I had no idea what the future held.
I spent five years trying to figure out what to do with my life. And then I got a lucky break. I auditioned for a new TV drama called Cast Offs and, to my surprise, I got the part.
At the time of my accident I could never have imagined it but now I'm an actor. I've starred in Hollyoaks, White Van Man, and Doctors to name a few, and earlier this year I landed on the cobbles of Coronation Street.
In BBC Three's documentary, Disabled In An Instant, I meet young people like me with one thing in common: they all became suddenly disabled with no warning.
Two years ago, Jacob was 21 and had plans to travel the world. But he contracted meningitis and instead, found himself staring at the four walls of a hospital in Preston for nearly two years.
Last February, after realising his legs had become too badly damaged by the infection,
he had to make the most difficult decision of his life - to have both legs amputated. At the same time he got engaged to his girlfriend Summer.
He was about to leave hospital, ready to get on with life, but soon found out the world wasn't ready for him.
The world "not being ready" is a familiar thing for other newly disabled people I met.
Billy is from a family of motocross riders. He was competing last year when he came off his bike. He tried to get back on his feet and couldn't move because he had broken his back.
At the time, Billy was living at home with his family in a two-storey house, and his bedroom was upstairs. The house needed to be adapted but to his frustration, he was ready to leave rehab before it was done. Consequently he was moved from rehab to a hotel miles from his family home.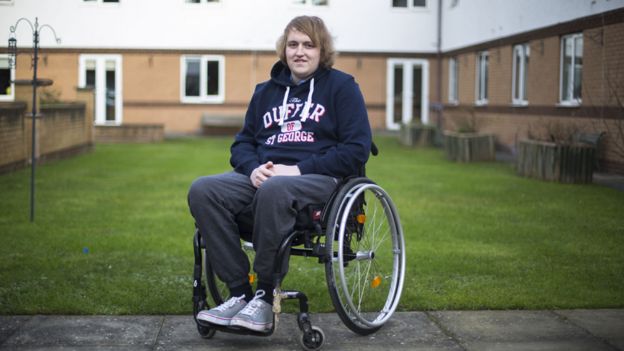 Helen had been travelling the world for two years before falling in love with her girlfriend Kirsty and had moved from Yorkshire to Stirling to be with her.
She began to feel constantly exhausted. One day she left work early and collapsed, finding herself paralysed from the chest down and blind in one eye.
She was eventually diagnosed with NMO - Neuromyelitis Optica - a super-rare condition which affects the brain and optic nerve. Helen went through an intensive rehab programme and just a few months later, taught herself to walk again.
She has been volunteering at a local museum to see if she's ready to go back to work but, even though it's only a few days a week, it leaves her energy levels depleted.
But Helen discovered she was not entitled to most benefits and it was only recently, after constantly pushing for a reassessment, that she got Employment Support Allowance (ESA).
After meeting Jacob, Billy and Helen, I got extremely frustrated. I can't wrap my head around the fact that more isn't being done to help get newly disabled people back into a normal life. Billy's house wasn't ready. Jacobs's legs weren't ready for him, even though he had spent two years on-hold in hospital. Helen, happily, has come home.
I took my concerns to the newly appointed minister for disabled people, Justin Tomlinson. He reassured me that he understood how complicated the system was for disabled people and that the government was working to sort it out. He believes Universal Credit will vastly simplify the benefits system.
I bare my heart in this film, I talk about my own tragedy and I stay honest throughout. Not everyone gives me an easy ride.
After I became disabled, disability rights campaigner Jane Campbell encouraged me to embrace my identity as a disabled man. It was something which really made me think.
I hope this film changes peoples perceptions of disability but, more importantly, I hope the people in charge take notice and realise that there is still so much more that needs to be done to help young disabled people get back out there and get on with their lives. I want things to change.