Ten years of being a disabled comedian at the Edinburgh Fringe Festival
A lot has changed in the past decade when it comes to disabled comedians and the types of shows that audiences expect. Are we becoming more mainstream?
The cleaners visited our rented apartment here in Edinburgh yesterday to change the bed linen and bring fresh towels. That means I have now been at the Edinburgh Fringe Festival for a week. It's hard to keep track as the days are an identical routine of practising for our comedy show: Abnormally Funny People.
It's been 10 years since we first came to the Edinburgh Fringe Festival to perform. We're a group of odd balls really, all disabled and all thinking we're funny enough to go on stage and try to make people laugh.
In 2005 we had some experienced comics and some novices but fast-forward 10 years and we now have a team of 12 comedians, including most of the original line-up, some newer acts and even a couple of acts we've met while we've been up here in Scotland and roped in to join us.
There were disabled comedians performing before 2005. Laurence Clark and Francesca Martinez immediately spring to mind, but I like to think we were the first to have an ensemble show and really bring it to the mainstream. Plus we always included a token non-disabled act, which may have helped.
Being new then was confirmed by the amount of media interest we received: a string of interviews, a magazine front cover here, a double-page spread there and even a Sky documentary made about us. Today there's not so much of the special treatment, but it's not gone completely.
A few days ago there was a Meet the Media event at the Edinburgh Fringe Central Office. The large school hall-like room thronged with creative young (and old) things, waiting for their quick pitch with the press. Like the old Disney World queuing system, if you had a disability you were fast-tracked. The Scotsman, however, long seen as the place to be reviewed during the Fringe, had no fast-tracking, just a two-hour line. Equality bites.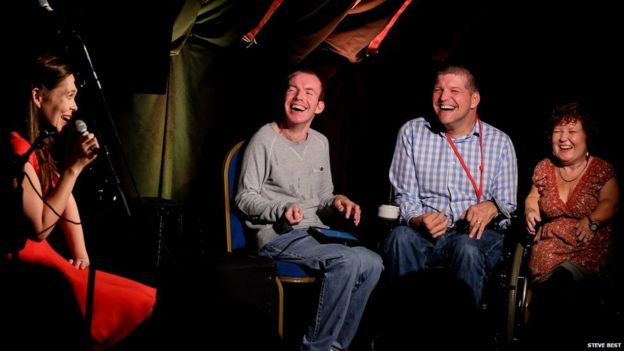 It's not the only change. We are no longer revolutionary - there must be more than a dozen shows in which a performer with a disability is telling amusing, personal, engaging stories. Not to mention dance, theatre and other shows. Disability is its own sub-genre now with specialist commentators such as The Sick of Fringe covering it. Abnormally Funny People are not the only game in town.
So how do you rise up out of the melee? My opening gag in 2005 was walking up to the microphone high up on its stand, looking up at it (I'm just under 4ft tall) and saying: "That's my career over". It got a laugh then, might still do now but it's not enough anymore.
We're lucky, most of the comedians in Abnormally Funny People are hugely experienced and stand-up comedy is how they make their living, so they know how to work an audience.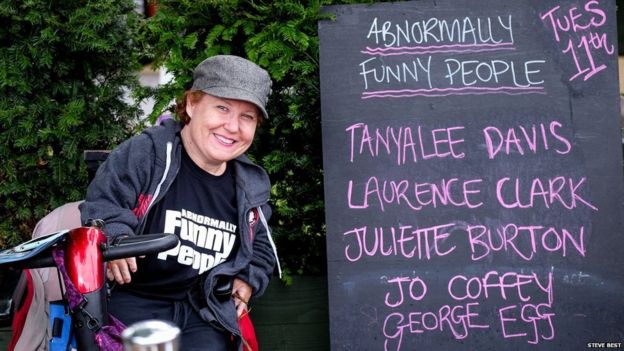 Most acts still have to acknowledge their impairment, as if to say to the audience: "Yes I am aware of my disability", but from then on it has to be strong material with a composed delivery. Those performing for the first time at the Edinburgh Fringe will go back a whole lot wiser and smarter after being on stage every day for a month.
Abnormally Funny People were never about education. From the outset it was just about making people laugh. But looking back to 2005 I was concerned about us not making ourselves look silly. Now I realise we should be free to look silly. Back then we were on a high wire - one side appealing to the mainstream and the other, trying not to undermine disability rights.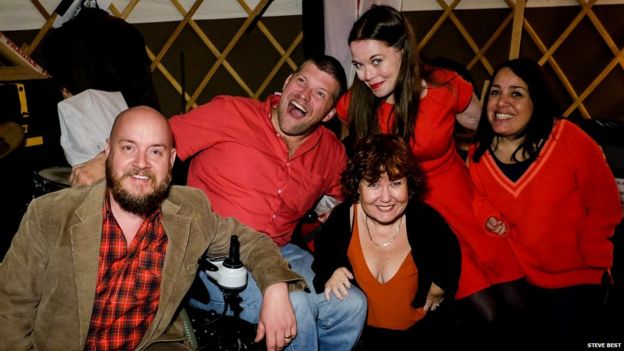 Whether real or not, that risk feels less now. The tightrope is now a sturdy rope bridge, which allows a lot more room for creativity and experimentation. For example we've made a video where all the acts in the show sing Human by the Killers. It's funny, it's silly, even at times warming. We're going beyond disability to a lovely, free space where we don't care. Of course there is still biting wit in the material.
And we continue to shake that rope bridge by introducing improvisation. Tough stuff for anyone, but when your improvisers can't hear, speak with a voice-synthesised keyboard or have Asperger's syndrome, this takes it to a whole new level. It feels strong and powerful.
The overriding feeling from my first week at the Fringe once more is just having a disability isn't enough to be successful anymore. We're an accepted part of the creative population. To stay funny, relevant, interesting and get the audiences in, we have to keep moving on foot or by wheels.
From BBC