DNR order 'violated disabled man's human rights'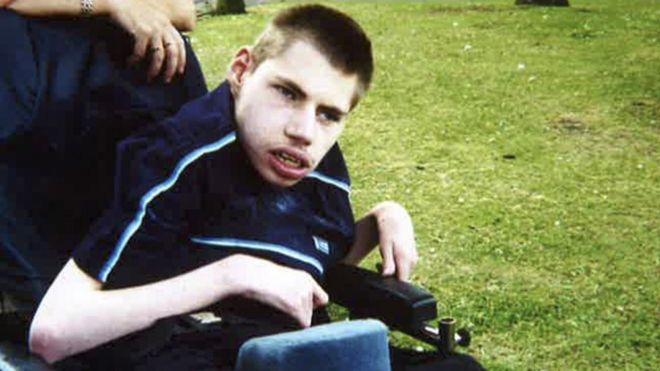 A 'do not resuscitate' (DNR) order put on a disabled man's records without consulting his mother breached his human rights, the High Court has ruled.
Carl Winspear, who had cerebral palsy, epilepsy and spinal deformities, died from bronchial pneumonia at Sunderland Royal Hospital four years ago.
His mother, Elaine, said she had been "left out of a critical decision" on her son's care.
City Hospitals Sunderland NHS Trust said it will consider the judgement.
The High Court ruled the 28-year-old's human rights were violated by a failure to involve his mother when the DNR order was made at 03:00 GMT on 3 January 2011.
He died later the same day, although the order had been cancelled in the meantime.
The judge, Mr Justice Blake, who made no award of damages, said the notice had no impact on Mr Winspear's treatment or the timing and manner of his death.
'Landmark ruling'
Mrs Winspear, from Washington, said it had been a "long and emotional four years".
"I was Carl's voice and I feel that I was left out of a critical decision in his life, a decision which I should have been consulted on as his mother and his carer."
Her lawyer Merry Varney said imposing a 'Do Not Attempt Cardiopulmonary Resuscitation' order was a "sensitive and important decision".
"Now the courts have made it very clear that it is not a decision for doctors to take alone," she said.
Jan Tregelles, chief executive of learning disability charity Mencap, said it was a landmark judgement which recognised people with learning disabilities were "too often... excluded from decisions".
"The Mental Capacity Act is there to protect people who lack capacity and it is crucial it is followed," she said.
"Professionals must be held to account when this doesn't happen."
In a statement, the City Hospitals Sunderland NHS Trust said: "The Trust would like to stress that it does have a robust Do Not Attempt Cardiopulmonary Resuscitation policy in place which is in accordance with national guidelines.
"The Trust would like to take this opportunity once again to pass on its condolences to Ms Winspear and her family and wish them well for the future."
From BBC