Life as a disabled person sometimes means you are asked slightly confused questions. But amid those awkward moments, there can be humour.
The following is an edited version of a monologue by Lost Voice Guy, Lee Ridley. He has cerebral palsy and uses a synthetic voice on his iPad to talk. He first performed this sketch for the BBC at the Edinburgh Fringe Festival.
One thing I've noticed about being a stand-up comedian is that mixing a disabled guy with loads of drunk people is rarely a good idea.
In fact, I would say the majority of my awkward moments come from meeting people in bars after my gigs.
It still amazes me how people can quite happily watch me on stage and laugh at my jokes, but as soon as I'm off stage, they aren't sure how to treat me.
They either think I'm deaf, and write everything down to show me, or they talk to my mates instead, even though they've just seen me on stage.
They could at least give me a bit of credit.
My most awkward moment came after a gig at The Stand Comedy Club in Newcastle.
I had just been on stage and was chilling out in the bar when this bloke came up to me and asked me if I really could talk - as if I was only putting it on to take advantage of the disabled parking.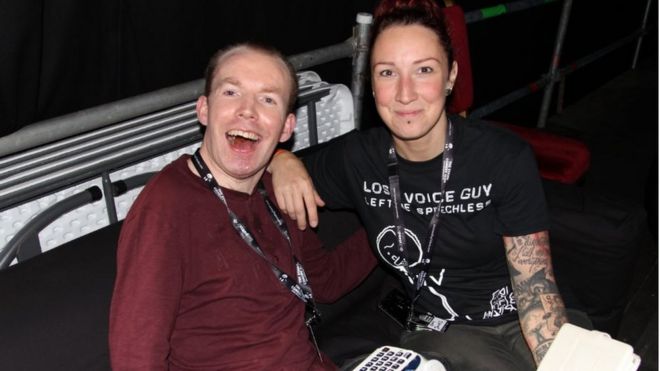 I had never been in a position where someone has questioned my disability before. Well, if you don't count my Department for Work and Pensions assessment.
Surely it was obvious I was disabled? I mean, I have the funny walk and everything. Not even the best method actor could put this rubbish on for days at a time.
But he didn't believe me.
I tried to lighten the mood by making a joke and told him that if I was going to lie about being disabled, I doubt I would have chosen this.
I explained that, as a comedian, not being able to speak is probably the worst disability to pretend to have.

Ouch Storytelling Live: Awkward moments
Lee was one of seven people with a disability or mental health difficulty to perform a story about awkward moments as part of BBC Ouch's storytelling event at the Edinburgh Fringe Festival.
Watch the full programme on BBC iPlayer here or you can also read:
For more Disability News, follow BBC Ouch on Twitter and Facebook, and subscribe to the weekly podcast.

It's far more likely I would pretend I couldn't walk, so I could perform while sitting down, or maybe I would say that I was blind, then I'd be able to let my dog poo on people who didn't laugh at my jokes.
I told him my job would be so much easier if I could talk because, apparently, it's very important to get your tone of voice right when doing comedy. That meant I was completely screwed because my voice always sounds the same when I'm excited, miserable, happy or bored.
Except on Tuesday nights, I added, when I pretend to be a woman.
The bloke laughed and I thought that was the end of the matter.
But instead of walking away, like any normal person, he decided to ask me if I had ever tried to talk just to see what would happen - as if I had just been lazy all of my life.
I said no, I hadn't tried to talk before, mainly because I knew nothing would happen. Besides, I've built a career out of not being able to speak so I didn't think I should encourage my voice to magically reappear.
Then I realised, because he was drunk, he'd be very easy to wind up.
I told him that I talk in my sleep.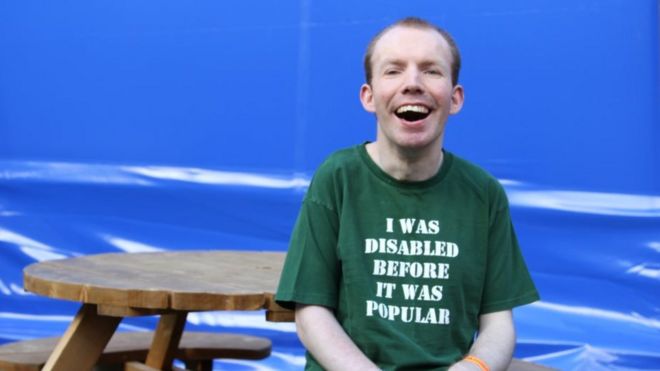 I said I know this because I always wake up with random sentences typed out on my iPad and he believed me.
Then I convinced him I had a job as a satellite navigation system. He didn't seem too sure at first, so I got him to suggest a location and said I could direct him to it exactly. Thankfully, he chose somewhere I knew. So I started my journey.
"After 200 yards bear left. At the roundabout, take the second exit. Or is it the third? Follow the yellow brick road. Can you tell me how to get, how to get to Sesame Street. Take the bridge over troubled water. You're on the road to hell. Stop - hammer time."
But, even after all this, he still wouldn't leave me alone. So I did what I always do when I get tired of talking to people.
I pretended my batteries had gone flat.
From BBC