People with hidden disabilities such as dementia and autism could be given blue badge parking permits in England under new government proposals.
The Department for Transport said that only some councils currently recognised hidden disabilities.
It said the proposed new policy was designed to provide "clear and consistent" guidelines.
Mental health campaigners welcomed the proposals for providing a "lifeline" to many people with hidden disabilities.
It is hoped the proposals, being put to an eight-week consultation, would create parity in the treatment of physical and mental health.
If they go ahead, it will be the biggest change to the blue badge scheme since it was introduced in 1970.
Around 2.4 million people have blue badges in England, which allows them to park for free in pay and display bays, use disabled parking bays, and stay for up to three hours on yellow lines.
In London blue badge holders are exempt from paying the congestion charge.
---
'Dad loves aviation'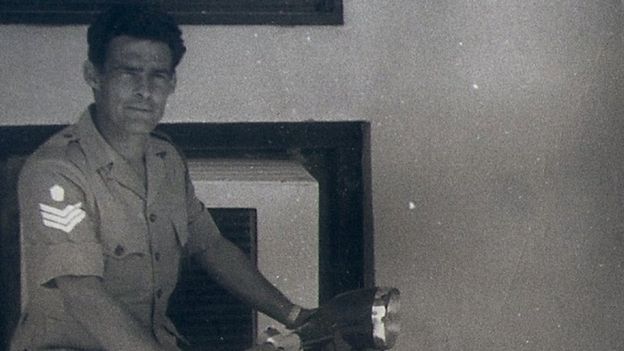 Richard Beatson said blue badges would be a "big bonus" when taking his father Brian, who is known as Sam and has Alzheimer's, on family trips to the shops and to air shows.
"My dad loves aviation - he was in the RAF," he said.
"He'd watch the red arrows and then five minutes later wonder when they were going to fly over."
But Mr Beatson, from North Wales, said people with Alzheimer's may often be in a "world of their own" and put themselves in danger.
He said he has to think "long and hard" about how to get his father safely to and from car parks, since he is not entitled to a blue badge.
"Parking nearer would be a big bonus," he said.
"If you're taking them to a garden centre or an event, car parks can be a long way away from entrances.
"I ended up printing a disabled symbol and ask people on the gate if they'd mind letting us park closer.
"The closer you can make it, the better. It's an unseen illness," he said.
---
Transport minister Jesse Norman said blue badges give people with disabilities the freedom to get jobs, see friends or go to the shops "with as much ease as possible".
He said: "We want to try to extend this to people with invisible disabilities."
The Department for Transport said about 75% of badge users said they would go out less often if they didn't have the flexibility to park with a blue badge.
The National Autistic Society has been campaigning for this change and its head of policy, Sarah Lambert, said it could provide a lifeline to many autistic people.
She told the BBC: "There are some families that sometimes don't go out because they're worried about the stress that is going to be caused if it's very busy and very crowded.
"For lots of autistic people, they don't have as good an understanding of danger as others, so we know that some families are worried about their children running out in front of cars."
Marjorie Wallace, chief executive of mental health charity Sane, welcomed the changes, saying: "By looking at non-visible illness, we can actually change the perceptions of mental illness.
"It's the first time that the government has shown that it's going to fulfil a parity of esteem between physical and mental illness," she said.
The National Police Autism Association, which supports officers affected by autism, Asperger's Syndrome and other conditions, said it was "great news" for drivers on the autism spectrum.
"Access to disabled parking eases the stress of trips out and makes independent living easier," it said.
From BBC