Michael and Henrietta Spink are two of Britain's six million carers. Their lives have been dictated by their son's disabilities for the last 20 years. Like many other carers, they face financial ruin, stress and exhaustion as they battle to cope with the demands of 24-hour care and a bureaucratic system that makes their lives a misery. By Tracy McVeigh, chief reporter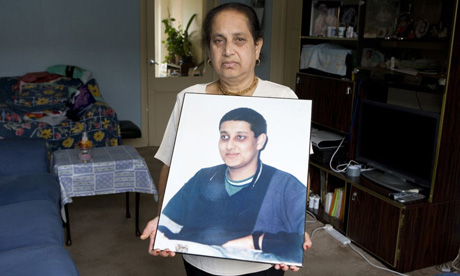 They had come close to paying off their mortgage when they lost their home. But if the final payment was tantalisingly close, Michael and Henrietta Spink's debts loomed closer and the family house had to be sold. 'We have lost everything, we have been thoroughly rogered and screwed, we have lost our home and have been brought to our knees,' said Henrietta bluntly. 'No one would really believe what a terrible joke the system is until they have tried it.'
Along with her husband, she is one of Britain's six million carers who are saving the government an estimated £87m a year by looking after the sick and the disabled and are constantly fighting to stay one step ahead of financial ruin.
Spink, a mother who has not slept through the night in 20 years, says she calculated recently that she has changed 60,000 nappies for her profoundly disabled children, Henry, now 20, and Freddie, 16. There's no self-pity there: she is laughing heartily. 'I love my boys. I am passionate about them, I can't tell you how much I love them and I can't tell you how much I am driven to do the best for them that I possibly can,' she said.
'Henry just never woke up from birth until he was three; it's as though he is living in a transcendental meditative state. When you're pregnant you have the dream, the school, the grandchildren, you map it all out. Then suddenly the slate is wiped clean and the canvas is a black one, very scary. But I have learnt that a lot of love does take away some of that darkness.'
It may well be that the next generation of carers benefits from the battles of this family as now their experiences have been taken on in a way that gives a little hope to the unpaid army of people who care for society's sick and disabled. Articulate about the disastrously unlinked-up services and woeful loopholes in present legislation, the Spinks wrote a letter to the Law Commission, the body charged with examining and recommending changes to the UK's statute books.
It struck a chord and has just been announced as one of the Law Commission's key new projects. It will be three years at least before the commission will report back to Parliament and far longer before any recommendations are voted on to the statute books, but it will force social care on to the political agenda.
For Henrietta, 46, a former classical book binder, and Michael, 51, an Islamic and Asian expert for an art and auction house, it's a little victory in a war that has shaped their whole lives. They had both managed to keep working until their second son, Freddie, was born missing half his diaphragm and with his organs in the wrong places. Freddie spent his babyhood on a life-support system.
Developmentally delayed, he now has profound autism and can be very destructive. He wakes frequently in the night and projectile-vomits - a constriction in his throat means he is in constant danger of choking.
Henry can have 20 epileptic fits a day and needs two adults to feed him: one to hold the spoon, the other to hold him back from making an involuntary gesture which sends plates and spoons flying.
'Families and friends do fade away when you have a disabled child. Most relatives will offer a bit of babysitting when children are small, but ours are in permanent babyhood and people do run a mile. It saddens me and it's a lonely state of affairs. But my unforgiving anger is reserved for local authorities, for the government, for countless MPs and officials who will not face up to the fact that families like ours are being driven into the ground. Assessment after assessment after assessment, they cost thousands of pounds. It's not joined-up thinking, ever, and people are totally in the dark about where to turn.
'Its soul-destroying. A lot of kids go into care for the lack of that little bit of extra support. We were first offered help when Henry was five and Freddie two. We were exhausted by that point and beside ourselves that we might get some help. They came and assessed us and assessed us again and finally came back and said we could have eight hours' help with laundry - at that point we were, as we are now, doing six loads of washing a day. I was delighted. Until it dawned they meant eight hours a year. Quickly you learn that with a disabled child you have to take a pill that says sense of humour on it, because it's a complete joke.'
The couple had their first-ever respite weekend when Henry was 15. 'We had to go to court to force our local authority to send our son to the school which catered for his needs. The school that actually catered to his needs was cheaper than the one they wanted, but we could not get them to see that. Henry had no school for six months while Freddie was having ongoing major surgery; it was a desperate time. We won, Wandsworth council [in south London] had to admit they had got their figures wrong. But then all they were required to do was say sorry. We were left with a £20,000 court bill; that was the beginning of our financial downfall really.
'We are two professional people with the ability to make a noise and look at where this family has got in fighting the system - we have never had our needs met, never. We've just moved from fighting for disabled children to fighting for adults. Its really, really sad. Morally, I just believe we as a country should be looking after people who can't look after themselves,' she said.
The hidden plight of Britain's carers has only recently been acknowledged by any government. The 2001 census was the first time figures were attempted to be collated on how many there were. The Carers (Equal Opportunities) Act 2004 addressed carers' work, learning and leisure opportunities, and the Work and Families Act 2006 gave the right to flexible working. The government ploughed about £225m into special provisions earlier this year.
But carers all say the system is not working, that the most gruelling part of their lives is dealing with a huge wall of red tape and bureaucracy across the health, social and benefit services.
There are charities who, as a last resort, will quietly advise desperate parents of disabled children to take them to social services and leave them in the office, because under those circumstances the law is actually clear on where the responsibility to assess their needs lies. 'I have been advised to do that, as have others I know,' said Henrietta Spink, 'to drop them on the doorstep of social services. But I never could find it in myself to do that to the boys, even as a gesture. It's quite cruel. They are human beings and how could I look into my sons' faces and walk away. But I understand how people do, though.'
The tales from people like the Spinks are endless and exhausting. The system is not just failing them, but making things worse: assessors being assessed, forms being ticked and the law being misunderstood or taken to mean something never intended, blatant dishonesty from local authorities keen to balance budgets and wriggle out of responsibilities.
Henry Spink, being carried up the stairs several times a day by his 5ft 2in mother, was denied a stairlift on a tick list of reasons which included 'being unable to operate the lift himself'. People waiting endlessly for letters that do not arrive or being referred from department to department. Many give up completely and slip below the radar, until they themselves get ill. Frustration, loneliness and financial hardship dog their lives.
Carers are from all walks of life and of all ages. There are an estimated 175,000 child carers in Britain for example. 'Too often carers struggle for years to get the services they need and the endless battling can leave them exhausted and feeling completely let down by the system,' said Imelda Redmond, chief executive of the charity Carers UK. 'Carers make a huge contribution to society but get very little recognition or reward in return.
'The rules around care and the way they are applied are aimed at keeping people out of the system rather than looking at the needs of the family as a whole and offering them the support they need. In many areas of the country only those with the most severe needs get any kind of assistance from their local authority. This can be shortsighted because often with a bit of support the carer could continue in paid work or education and the person being cared for could have more independence. As a result, the family's quality of life would be transformed and their long-term prospects improved.'
Poverty is a huge problem for people who find themselves with a sick or disabled relative. Not only do people have to give up jobs but they also face higher heating, laundry, food and transport costs. There is a carer's allowance of £50.55 a week, but it is denied to anyone who gets any other sort of benefits, or is on a pension or has a part-time job earning more than £95 a week.
At the end of last month Parliament's work and pensions select committee published a report recommending an overhaul of the benefits system and an increase in carers' allowance to £60.50 a week to go some way to compensating carers, with top-up payments of up to £50 a week to cover their expenses. Terry Rooney MP, the committee chairman, said sustaining the ability of carers to provide the care and support they gave to others was of critical importance.
The Department for Work and Pensions had a duty 'to provide adequate financial support for those who provide care when of working age, either by compensating them for the extra costs of caring, or, if they need to give up work to care, through adequate income replacement and pension protection mechanisms.'
That would add an extra £130m to the country's welfare budget. It is not a huge amount in the great scheme of things - it is the same amount, for example, that absent fathers are estimated to owe the state in child support - but carers insist that there is a great deal that could be done to improve their lives that would cost little or nothing.
Professor Sue Yeandle, a sociologist at the University of Leeds, has been researching issues around carers for a decade and was a special adviser to the work and pensions select committtee. She says there are three 'penalties' for people who take on unpaid care. 'They become poor, their health deteroriates, and there is a tendency for them to become socially excluded,' she said.
'Stress and low-level depression from the isolation just gets worse when they are having to fight with the system.' People with disabled children are getting a particularly raw deal, she said. 'There are pockets of good practice in local authorities, but there are enormous problems in many authorities with them constantly looking to their budgets and resisting or misunderstanding what the law expects from them. Many are not carrying out their responsibilities in an acceptable way and I know that is recognised in central government.
'But actually there are quite a lot of things that would make a huge difference to the lives of carers that are not at all massively expensive. Simplifying the system and simplfying access to information are absolutely key. My personal opinion is that we are moving in the right direction of travel with legislation, but I do have concerns about the implementation and the speed of change.'
Future legislation is a little late for Dipti Chakrabarti, who has been a carer for 39 years. She does not have the enduring upbeat energy of Henrietta Spink. Perhaps she did once.
She is worn down far beyond her 64 years that she says 'has been no life at all'. A master's degree in chemistry gathers dust among her long-discarded ambitions. In 1969 she came to this country from India, newly wed to a barrister, to take up a scholarship and continue her studies. It never happened. Instead an unbroken line of family illnesses defined her entire life. First, she looked after her husband, who died in 1984, then her son, who suffered from bone cancer and died in 1996 at the age of 19, and almost immediately afterwards her mother had a bad fall and her health has declined ever since.
Now she herself suffers from high blood pressure, ailing eyesight and arthritis, a package of ill health linked to her years of struggling on the breadline to care for others. The widow's pension she received bars her from getting any further carer's benefit, and with her 82-year-old mother to look after she cannot work. Her 34-year-old cooker is on the blink and it distresses her deeply that she is unable to keep a smart, tidy home: she has not been able to buy a new set of curtains for more than 25 years.
At the moment, she is waiting for her mother to return home from a nursing home where she has been since suffering a heart attack. 'I visit her every day so I can take her puréed foods and talk to her in her own language. We talk of the misfortune life has brought us.'
Chakrabarti, of Ilford, Essex, has been fighting her local council, Redbridge, to get respite help and has been waiting for a promised letter from social services for a year. 'She needs 24-hour care and I have to sleep sometimes, so I need some help. Being a carer is not easy, but being not recognised by those who have the means and the power to change the status of a carer is far worse.
'I am frustrated, I'm angry when I need help and there is none. It scares me that if I am reincarnated I would have to go through this kind of life again, I hope not.'
Henrietta Spink echoed Chakrabarti's thoughts: 'We could so easily sink without trace, but I'm buggered if we're going to. But I can't really think about the future. I can only hope that I am born again and get another go at life.'
.
from http://www.guardian.co.uk/society/2008/sep/14/socialcare.socialexclusion