Will the Paralympics ever be on a par with the Olympics?
London 2012 organisers say they will place the two events on an equal footing. But will they get the same coverage?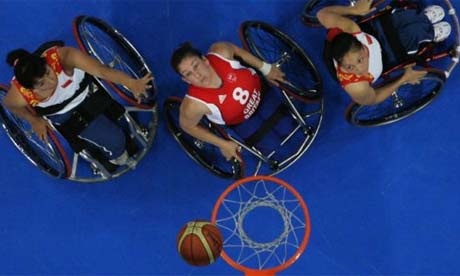 Competition for athletes with disabilities has advanced significantly since the first event of what would later become known as the Paralympics. A somewhat ramshackle event was held in 1948 in Aylesbury primarily to help the rehabilitation of second world war veterans.
The captivating power of the Paralympics continues to increase, with around two million UK viewers watching the nightly triumphs and emotional victories over the past few weeks in Beijing.
As the British Paralympic team return from China, bringing with them an unprecedented medal haul (42 golds and 102 overall – 18 more than in Athens), the London 2012 organisers have announced that they plan to place their event on an equal footing with the Olympics in terms of crowd sizes and branding. For the first time, the two events will also be run by the same committee, according to organisers.
"The Paralympic games are for us as important as the Olympics. They will be run by the same team of people and given the same attention."
Ade Adepitan, a former Paralympian, told the Guardian how public interest in the competition had changed over the years.
"I remember events with one man and a dog watching but the other day the Birds Nest was full with 90,000 spectators… People have come and been amazed at athletes' feats."
There is no doubt the drama and the sheer inspiration of the Paralymics is at least the equal of the Olympics. Given this gripping viewing, why does the event still not get the same coverage?
In today's G2, Kira Cochrane looks at what the Paralympic coverage says about the visibility of disability in the media:
All in all, it has been a stunning competition, and while the coverage certainly hasn't had the wall-to-wall intensity of the Olympics, it has been strongly presented, in a nightly 7pm prime-time BBC slot. I'm pretty sure that anyone who started watching the events will have gone back for more - the quality of the sport, and the intensity of will was such that, once you switched on it was very difficult to turn away.
Will the decision of London 2012 to treat the two events equally mean the status of the Paralympics will change? Can it ever command the same attention as the able-bodied competition?
*This is an extended extract from the Wrap, guardian.co.uk's roundup of the best of the day's media