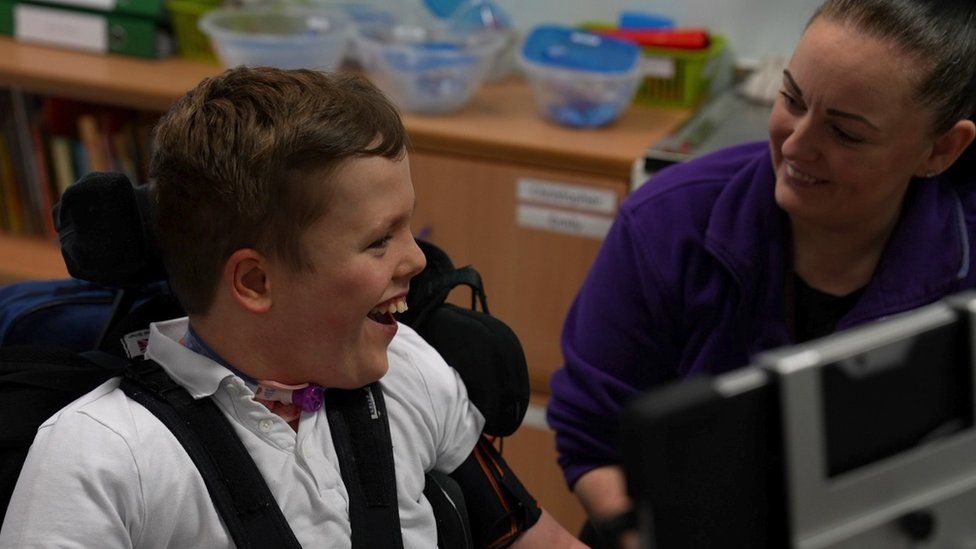 Thousands of severely disabled children's lives are at risk because of long waits for ambulances, doctors and other experts have warned.
Emergency care is a vital part of their everyday lives, the British Academy of Childhood Disability says.
They often rely on ambulances as part of their healthcare plan, because their condition can become life-threatening in an instant.
The government says it is taking action to address ambulance delays.
Almost 100,000 children have life-limiting conditions or need regular ventilator support in the UK.
Dr Toni Wolff, who chairs the British Academy of Childhood Disability, told BBC News some families with severely disabled children had "what are essentially high-dependency units" of medical equipment at home.
"As part of their healthcare plan, we would normally say, 'If the child starts to deteriorate, call for an ambulance and it will be there within 10 or 20 minutes,'" she said.
"Now, we can't give that reassurance."
Despite their child being classed as a priority, parents have told BBC News they face the difficult decision to wait for an ambulance or take them, often in a life-threatening condition, to hospital themselves - a risk because of the huge amounts of equipment needed to keep them alive,
Patients with emergencies such as heart attacks and strokes waited 90 minutes on average for an ambulance in December.
In January, this dropped to 32 minutes - but the target is 18.
Twins Emily and Christopher, 12, enjoy rock music, seeing their friends at school and laughing at television programmes such as You've Been Framed.
They also rely on a vast array of machinery, such as ventilators, suction equipment and oxygen tanks, to stay alive.
Born three and a half months early, they have brain damage and a number of complex conditions.
Christopher has a tracheotomy and Emily needs constant supervision because of severe choking issues.
"We can't leave them longer than it takes to take one breath," their father, Paul, says from their specially adapted home, in a small village just outside Newcastle.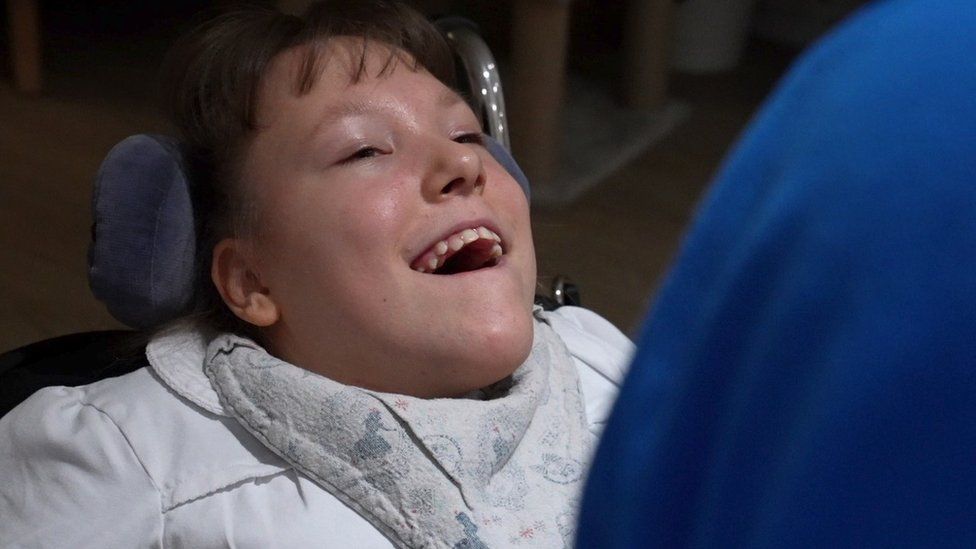 Emily and her twin brother need constant care
"If Christopher's breathing tube blocks, then he could be dead within minutes."
Paul and their mother, Claire, have been medically trained to look after the twins at home but their expertise goes only so far.
Just before Christmas, Christopher became very poorly with several infections. His breathing tube became congested. They changed it and increased his oxygen but his condition continued to worsen.
"We couldn't resolve it at home," Paul says, "so we had to call for an ambulance. He was struggling to breathe and he was having uncontrollable shaking, where he couldn't control his limbs."
Christopher's condition was life threatening - it was a category-one emergency, which means an ambulance should aim to arrive within seven minutes - but they were told there could be a three-hour wait.
"It was terrifying," Claire says, "Our skillset is only up to a certain level - we aren't doctors and nurses. At times when we can't sort it, we need quick access to A&E - that access is what keeps Emily and Christopher alive."
After 20 minutes of waiting, and with Christopher continuing to deteriorate, they decided to attempt the journey to the Royal Victoria Infirmary.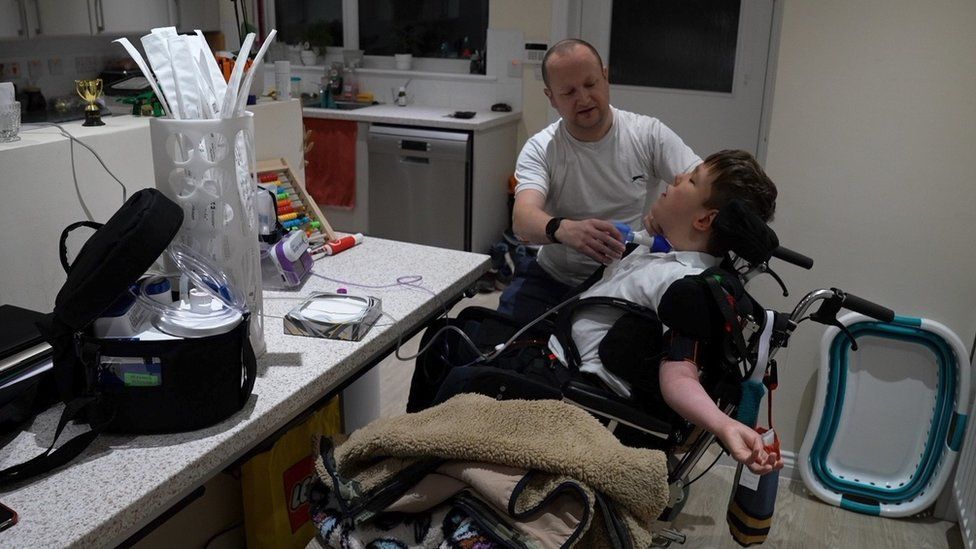 Paul and Claire cannot leave Christopher and Emily unsupervised for longer than it takes to take one breath
But when they called to cancel the ambulance, the call handler told them they had managed to divert one to their house.
It took Christopher to the hospital's accident-and-emergency department, where a resuscitation team was waiting - and after an hour of intense treatment, he survived.
The North East Ambulance service said it understood delays put patients at risk and had declared two critical incidents because of the "unprecedented pressures" in December.
But Paul and Claire still carry the trauma of that night.
"We need emergency care to work - it is vital. Without it, our world would start to shrink," Paul says.
"We would need to stay at home, where all our equipment is. We can't take everything when we are out and about. The children would lose their independence and they're more at risk of losing their lives."
Disabled people are far more likely to need emergency care.
Census figures show 17.7% of people in England have a disability - but the latest Care Quality Commission survey suggests 46% of those who responded after attending A&E were disabled.
And the Royal College of Emergency Medicine admits the system often fails to meet their needs.
Its president, Dr Adrian Boyle said: "They are particularly disadvantaged when it comes to emergency care, partly because departments are so full and the hospitals are so full that they're ending up having to wait a lot longer in areas which are not well designed for them.
"We're looking after people in corridors and we're looking after people in inappropriate clinical areas. And that can't be good for somebody who comes in with a lot of equipment or has complex needs."
An spokesman said the Department of Health and Social Care was taking "immediate action" to reduce the long waits by boosting capacity, with 5,000 more beds and 800 new ambulances, and reforms due to be announced over the next few months would help disabled people "live more independently".
From BBC